Richii Jai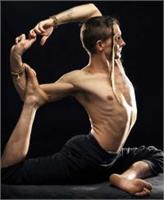 Richii Jai is a Colorado native and a true health enthusiast. He has been studying physical fitness and human anatomy and sharing what he discovers with his students. Richii Jai practices movement arts such as Bicycling, Interval Style Workouts, and Power Yoga daily, in the studio, at home, and randomly in the aisles at the supermarket. He has written 200 Hour Yoga Teacher Trainings recognized by The Yoga Alliance, and holds an E-RYT 200. He has coached many Bootcamp programs, been a Lead Instructor of SculptYoga Teacher Trainings, written and taught Advanced Yoga Workshops, and coached privately. His favorite workouts are interval style that involve cardio sets and shorts rests. Richii Jai pays full attention to his students, using anatomical knowledge, alignment methods, and understanding the unique expression each person is living. He encourages his students to be honest, free and explore their potential. He believes everyone can have a bright Mind-Body-Spirit through a healthy lifestyle. He encourages his groups to work intelligently,and follow their workouts with a Rapid Recovery Routine of water, foods, herbs, and rest. Richii Jai is currently developing videos for bicycle athletes who want to use yoga and weights for boosting and restoring their minds and bodies.
Richii Jai instructs the following:
A total body workout, One Boulder Fitness Sculpt It! Yoga classes are set to energizing music and designed to tone and sculpt every major muscle group. This class complements your regular fitness lifestyle while boosting your mind-¬body-¬spirit perspectives about pushing your strength and flexibility to new heights. Free weights are used throughout a Level 2 Power-yoga sequence, creating resistance and intensifying each pose. Strength ¬training exercises such as squats, lunges, bicep and tricep curls are incorporated to build lean muscle mass. Cardio bursts, and extra core strengthening are in every class. You will see visible results in your body. Safe for everybody, no prior yoga experience necessary.

Led by OBF's resident yogi, Richii Jai. Richii Jai has a talent for leading these yoga workouts, while watching each person carefully and helping to adjust and offer alternative to make the experience quality for every body type.