Karie Kerner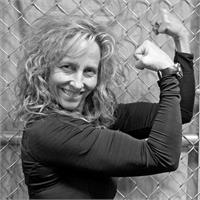 karielkerner@gmail.com
You are the pioneer of your body, so try not to set limitations on your growth. Let me help you have fun while exploring your phenomenal potential.
After years of strength training and studying under master bodybuilder Glen Marshman, I am dedicated to creating smooth qualities in all movement patterns. By training you to approach weight-lifting with ease and grace, your body will be able to take on increasing loads safely. As you develop more power and strength, your joy for moving your body will also increase. This feedback loop of strength and joy is my formula. I will teach you how to crave a physical challenge—and how to make it look easy. Let me show you how much you can love being in your body.
Certifications:
- National Academy Sports Medicine - Certified Personal Trainer - TRX Qualified Instructor
Education:
- 15 years study; Feldenkreis Master Cici Runge - B.M, Master of Music San Francisco Conservatory of Music
Karie Kerner is currently not instructing any classes.